Figure 1.1 The GemStone Object Server
---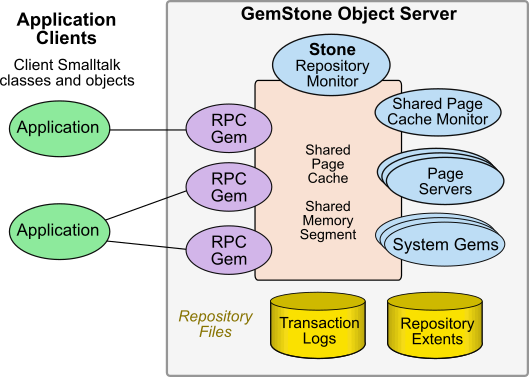 The object repository is a multiuser, disk-based Smalltalk image containing shared application objects and GemStone kernel classes. It is composed of files (known to GemStone as extents) that can reside on a single machine or can be distributed among several networked hosts. The repository can also include GemConnect objects representing data stored in third-party relational databases.
Your Smalltalk application program treats the repository as a single unit, regardless of where its elements physically reside.
A Gem is an executable process that your application creates when it begins a GemStone session. A Gem acts as an object server for one session, providing a single-user view of the multiuser GemStone repository. A Gem reads objects from the repository, executes GemStone Smalltalk methods, and updates the repository.
Each Gem represents a single session. An application can create more than one session, each representing an internally-consistent single view of the repository. When a Gem commits a transaction, it modifies the shared repository and updates its own view of the repository.
The Stone monitor process handles locking and controls concurrent access to objects in the repository, ensuring integrity of the stored objects. Each repository is monitored by a single Stone.
Despite its central role in coordinating the work of all individual Gems, the Stone is surprisingly unintrusive. To optimize throughput for all users, most processing is handled by the Gems, which often interact directly with the repository. The Stone intervenes only when required to ensure the integrity of the multiuser repository.